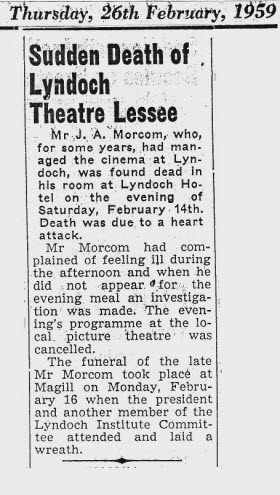 The Lyndoch Hotel is renowned in circle of interest for the resident ghost that on occasion makes himself felt present.
The ghost is known as the "projectionist"  who is Mr. J.A. Morcom, a managed of the Lyndoch cinema for some years in the 1950s.
Mr. Morcom regularly stayed at the hotel every Saturday after the cinema show but on the evening of Saturday 14th February 1959, he was found dead in his room after suffering a heart attack.
It is believed that because the hotel was not his home and place of rest, he is "between worlds" and has never moved on.  Many a staff member and hotel owner have experienced 'unusual happenings' and eerie presences – even to this day.
Extract from a paranormal investigator's journal – author unknown.
I called to see Mitzie, who is the co-owner of a beautiful traditional building, now modernised to cater for the discerning public.   The hotel has been made larger, and a private bar outfitted at the rear of the large public bar.  Here customers can relax to enjoy Barossa hospitality with wholesome food at moderate prices.

Keen to find out the real story of the projectionist; I said to Mitzie, "I believe you have a ghost here?"  I naturally smiled to ease her mind, just in case she proved uncooperative, but the lady nodded, and then pointed to the back of the private bar…
…continue the journal – See the Gallery.
View Gallery